1.NATIONAL FLAG:-
SAFFRON -IT STANDS FOR BRAVERY, COURAGE, SACRIFICE, & SELF RESPECT.
WHITE- IT STANDS FOR PEACE, TRUTH & POLITENESS.
GREEN-IT STANDS FOR VEGETATION & PROSPERITY OF THE NATION.
ASOKA CHAKRA-THERE ARE 24 STROKES IN THE ASHOKA CHAKRA.IT DENOTES PROGRESS IN ALL 24 HOURS I.E. EXTERNAL PROGRESS.
2.THE WORLD SCOUT FLAG:-
PURPLE BACKGROUND-PURPLE IS THE INTERNATIONAL COLOUR OF KNIGHTS.IT DENOTING THAT SCOUTING IS THE ROYAL ACTIVITY.
THE WORLD SCOUT BADGE:-
1.THE FLEUR-DE-LEUS IS THE SCOUT EMBLEM .IT IS THE ITALIAN WORD FOR THE FLOWER OF LILY.
2.THE NEEDLE SHOWS NORTHON A MAP.THIS SHOWS TYHE RIGHT DIRECTION TO SCOUTS TOWARDS PROGRESS.
3.THE THREE ENDS AT THE BOTTOM OF THE FLEUR-DE-LEUS REMINDS ABOUT THE PARTS OF TYHE PROMISE..
4.THE RING JOINING THE THREE PETALS FLEUR-DE-LEUS IS SAID TO BE THE RING OF BROTHERHOOD.IT DENOTES BROTHERHOOD AMONG SCOUTS.
5.THE STARS DENOTES THAT SCOUTING IS AS HIGH & AS ESTEEMABLE AS THE STARS AREV SPREAD THROUGHOUT THE SKY, SO IS SCOUTING THROUGHOUT THE WORLD.
6.THE CHORD AROUND THE BADGE WITH REEF KNOT AT THE END DENOTES THAT THE SCOUTS THROUGHOUT THE WORLD ARE TIED IN THE RING OF BROTHERHOOD. THE REEF KNOT REMINDS THE SCOUT TO DO A GOOD TURN DAILY.
THE WORLD SCOUT FLAG WAS APPROVED IN 1961 AT THE 18th WORLD CONFERENCE.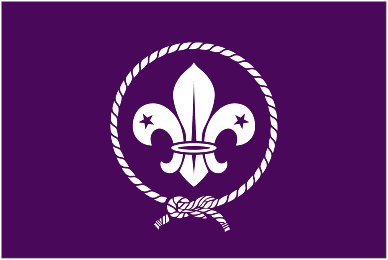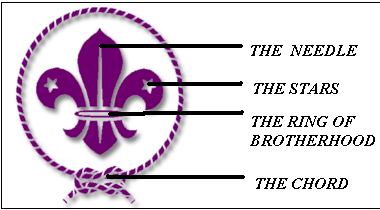 THE BHARAT SCOUT & GUIDESFLAG:-
1.BLUE BACKGROUND
BLUE IS THE COLOUR OF SKY. THIS INDICATES THAT AS SKY IS SPREAD ALL TROUGH THE EARTH, SO IS SCOUTING. ALSO THAT SOUTING IS TOBOYS WHAT SKY IS TO EARTH.
2.THE BADGE:-
THE FLEUR-DE-LEUS IS THE INTERNATIONAL OF SCOUTS & REPRESENTS SCOUT SECTION.
THE SHAMROCK IS THE INTERNATIONAL EMBLEM OF GUIDES & REPRESENTS THE GUIDES SECTION.
THE ASHOKA CHAKRA CLARIFIES THAT THE BADGE IS THAT OF SCOUTS & GUIDES OF INDIA.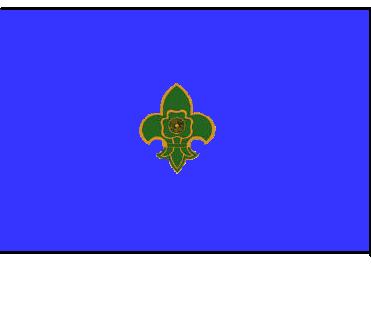 THE PARTS OF FLAG:-
1. FLAG POLE:-
IT IS THE POLE ON WHICH THE FLAG IS RAISED.
2.HALYARD:-
IT IS THE ROPE ON WHICH THE FLAG IS TIED & RAISED TO THE TOP OF THE POLE.