WOUND IS A UNCONTINOUS BREAK IN THE SKIN & TISSUE DUE TO INJURY.
TYPES :-
1.CONTUSED-CAUSED BY BLUNT OBJECTS.
2.LACERATED- CAUSED BY FRICTIONJ OF IRREGULAR OBJECTS.
3.INCISED- CAUSED BY SHARP OBJECTS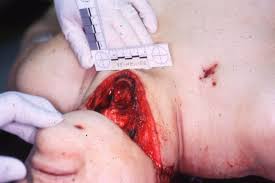 4.PUNCTURE- WHEN THE OPENING IS SMALL BUT THE WOUND IS DEEP.
GUNSHOT- WHEN A FOREIGN BODY PASSES THROUGH THE BODY WITH GREATER VELOCITY.
TREATMENT:-
IN CASE OF MINOR WOUNDS CLEAN THE WOUND WITH SOAP & WATER, APPLY ANTISEPTIC CREAM & APPLY A CLEAN DRESSING.
IN CASE OF MAJOR WOUNDS LIKE PUNCTURE , EG KNIFE THEN APPLY A RING PAD AROUND IT & TRY TO RESTRICT BLEEDING.